Employment Opportunities
MSRD is always looking for new talent to grow our team!
Apply Today!
There are three ways to apply for a position at Milwaukee Steel Rule Dies.
EMAIL RESUME OR LIST OF QUALIFICATIONS. Send to [email protected]
FILLABLE PDF. Download and fill out the application (application form). Once it is downloaded onto your computer, simply fill in all the spaces and save it. Once it's saved attach it to an email and return it to [email protected]
PRINT THE APPLICATION. Download the application and print it out. Fill out the application and hand deliver it. MSRD Standard Employment Application  Return to: Milwaukee Steel Rule Dies, W187 N8620 Maple Rd., Menomonee Falls, WI 53051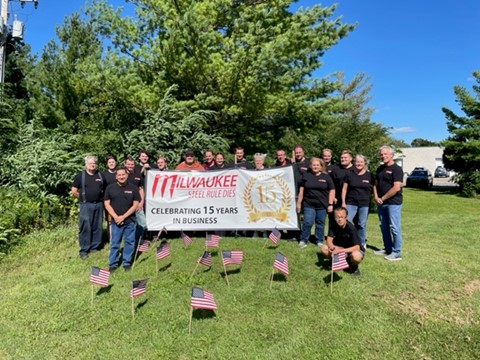 Joining Our Team
Milwaukee Steel Rule Dies is America's premier steel rule die manufacturer. Our mission is to provide a work environment where our team members can realize their potential and thrive in an atmosphere of excellence. We maintain superior integrity and honesty in interacting with customers, suppliers, business partners and team members. We strive to be the industry standard in diligent service to customers, we look forward to growing our team with those who share in our passion.
Why Join the Milwaukee Steel Rule Die Team?
Opportunity to Grow. As our company and team continue to grow, we're looking for employees who want to build a career that is rewarding, challenging and exciting.
Family-Oriented Team. Our energetic team and family-oriented environment helps keep morale high and employees motivated!
Learn from Industry Experts. We've become known experts because our team brings some of the best service and superior product knowledge in the industry.
Benefits
Health Insurance | Paid Time Off | Life/AD&D Insurance | Competitive pay based on experience
Qualifications & Skills:
Previous Work Experience: Varies by position, please see our postings below for specific details, search Indeed for "Milwaukee Steel Rule Dies" for the most up to date listings.
Education and/or Experience: A high school degree or GED and twelve to eighteen months of previous work experience is a required job standards.
Language Skills: Team Members must possess the ability to read and interpret documents such as safety rules, operating and maintenance instructions, and procedure manuals.
Mathematical Skills: Good math skills. Comprehensive ability to recognize and visualize geometric shapes and designs.
Reasoning/Technical Ability: Team members must possess commonsense understanding to carry out instructions furnished in written, oral, or diagram form.